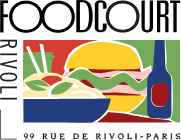 Les Restaurants du Monde make way for the new Foodcourt Rivoli
23/05/2023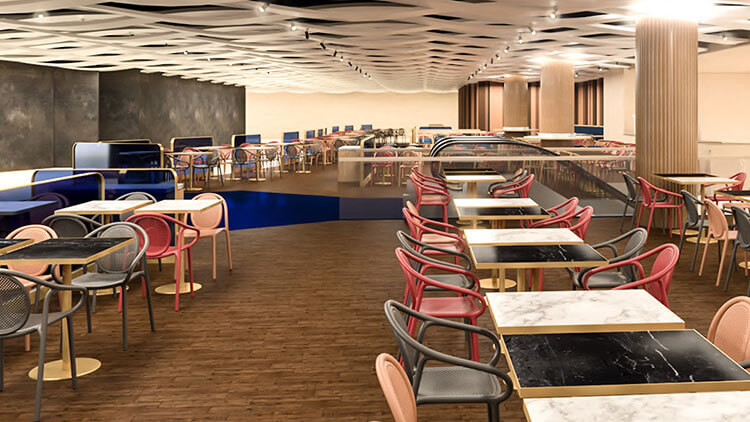 If you've ever been to the Louvre Museum, you might have passed by the famous food court called "Les restaurants du Monde" and its international restaurants (Soi, Beaudevin, Salam, Segafredo, Mira, and Meltem). After more than 15 years of service, it was time to renovate this place and its concepts to make way for a brand-new gastronomic destination: Foodcourt Rivoli.
Owned by Autogrill, Foodcourt Rivoli offers a selection of 7 unique dining concepts that cater to every moment of the day.
Les Restaurants du Monde at Carrousel du Louvre
Before we introduce the concepts of Foodcourt Rivoli, let's take a look at the restaurants that were once present at Carrousel du Louvre. These restaurants were known for their variety of cuisines from around the world, providing visitors with a diverse culinary experience. From Italian dishes to Moroccan cuisine and French specialties, Les Restaurants du Monde was a beloved place for its uniqueness. However, it was time to renovate this dining space, rejuvenating it with new concepts.
Foodcourt Rivoli
With the closure of Les Restaurants du Monde, Autogrill introduced Foodcourt Rivoli, a new gastronomic destination that fills the void left by its predecessors. Foodcourt Rivoli is a modern and lively space housing seven unique dining concepts, offering visitors an unforgettable culinary experience. Located in the heart of Paris, it's the perfect place to dine after visiting the Louvre Museum.
The 7 Dining Concepts at Foodcourt Rivoli
At Foodcourt Rivoli, you'll find a variety of dining concepts tailored to suit all tastes. Here's an overview of the seven concepts within Carrousel du Louvre.
1. Italian restaurant "Amore"
Amore is a paradise for lovers of Italian cuisine. With its diverse menu featuring freshly baked pizzas, homemade pasta, and a selection of Italian wines, this restaurant will transport you directly to Italy.
2. French beer brasserie "French Beer Brasserie"
For those who want to savor classic French dishes accompanied by craft beer, French Beer Brasserie is the perfect place. Traditional dishes like entrecote, confit de canard, and escargots are served with a contemporary twist.
3. Thai restaurant "Pitaya"
The exotic flavors of Thai cuisine await you at Pitaya. Spicy dishes, fragrant curries, and stir-fried noodles are prepared with care to provide an authentic Thai experience.
4. McDonald's fast food
For those looking for a quick and familiar option, McDonald's fast food is available at Foodcourt Rivoli. Iconic burgers, crispy fries, and refreshing milkshakes are offered to satisfy visitors' cravings.
5. McCafé
If you need a coffee break or a sweet snack, McCafé is the place to go. Hot and cold beverages, fresh pastries, and delicious desserts are available to satisfy your sweet tooth.
6. Brioche Dorée for fresh pastries and sandwiches
For a quick breakfast or a light lunch, Brioche Dorée offers a selection of fresh pastries and tasty sandwiches. You can enjoy crispy croissants, baguettes filled with delightful ingredient combinations, and much more.
Adapted to Every Moment of the Day
Foodcourt Rivoli offers a range of dining options to cater to every moment of the day. Whether you're looking for a hearty breakfast, a quick lunch, a gourmet dinner, or simply a coffee break, you'll find what you need.
Breakfast and Brunch
Start your day with a delicious breakfast or brunch at Foodcourt Rivoli. You can indulge in fresh pastries, French delicacies, fresh fruit juices, and much more. You can also enjoy cappuccinos, lattes, tartlets, or even chocolate éclairs!
Lunch and Dinner
For lunch or dinner, Foodcourt Rivoli offers a wide range of choices. You can opt for refined Italian dishes at Amore, savor classic French dishes at French Beer Brasserie, or explore the spicy flavors of Thai cuisine at Pitaya. If you prefer something quick, McDonald's fast food provides quality burgers and fries.
Coffee Break and Snacks
Need a coffee break or a snack to recharge? McCafé is the perfect place to enjoy a hot beverage, an iced coffee, or a sweet snack. Brioche Dorée also offers fresh pastries and sandwiches to satisfy your cravings for light snacks and have a good time.
Conclusion
Foodcourt Rivoli has become the new reference for international cuisine lovers in Paris. It's the perfect place to dine near the Louvre Museum. With its 7 unique dining concepts, it offers a diverse culinary experience tailored to every moment of the day. Whether you're craving Italian, French, Thai flavors, or simply a coffee break, Foodcourt Rivoli will delight you with its delicious gastronomic options.
Please note that the translations provided above preserve the original HTML markup. Let me know if you need any further assistance!
Next News
Previous News